Choosing a polyresin toilet seat can be a good idea if you are looking for a durable and stylish seat that you can use for a long time
. It can also be a good option for those who are concerned about the environment. You can choose from various designs and colors and get a seat that is both easy to clean and maintain. You can also use the seat as a decoration to create a theme for your bathroom.
There are many materials that can be used to make a seat, but the most common are plastic and wood. Wooden seats can be purchased in several different styles and colors. They are lightweight, easy to clean, and are less expensive than plastic. They are also durable and can be molded for a unique design. In addition, they can be decorated with decorative items such as pattern paper. However, they are not as strong or sturdy as plastic.
Some of the other materials available are plastic, medium density fiberboard, and bamboo. These are all durable materials, but they are not as comfortable or stylish as wooden seats. Moreover, they are not as resistant to harsh cleaning chemicals.
Whether you are using a wood or a plastic toilet seat, you should know how to take care of it. Some of the most important things to consider are how to clean it, how to avoid damage, and how to maintain its good appearance.
A good way to protect a toilet seat from water is to have it coated with varnish. It also prevents it from catching stains. A solid color can match your bathroom's color scheme, while a marbled design can match the stonework of your bathroom. You can also use acrylic to protect certain designs on the lid.
Thermoplastic toilet seats are also available. They are made of a mixture of resin and powder. After they cool, they form a sturdy and thick seat. Some of these seats have see-through designs. You can also purchase a slow-close toilet seat, which is a great option for homes with children. These toilet seats have hinges that close slowly.
There are also seats that are padded, which provide a soft spot for those who have hemorrhoids. These seats are often useful for a short time, but they can begin to break down after extended use. If you prioritize cleanliness, you should stay away from padded seats.
Lastly, you should decide on the type of mounting hardware that you are going to use. You can buy hinges that are adjustable or tarnish-resistant. You can even choose hinges that have handles. These hinges can be made of stainless steel or zinc-plated metal. They can be installed into a standard hole spacing of 5 1/2 inches.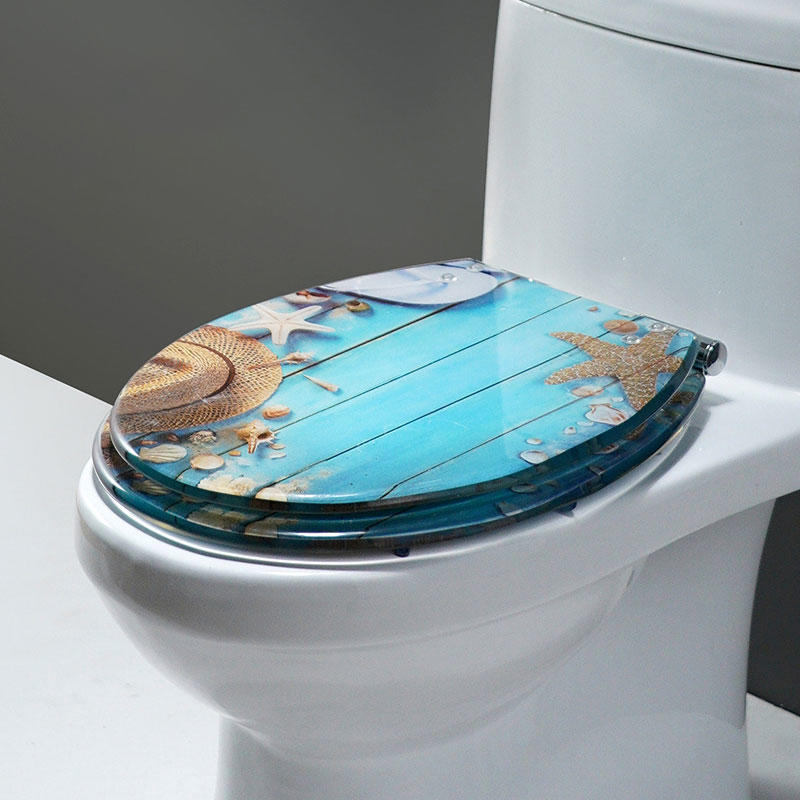 18 Inch Striped Deep Sea Toilet Seat
| | |
| --- | --- |
| Name: | 18 Inch Striped Deep Sea Toilet Seat |
| Material: | Resin |
| Size: | 18 Inch |
| Cover Length: | 42cm |
| Cover Width: | 36cm |
| Hole Distance: | 13-20cm |